Erin Ackerman
Erin Ackerman coordinates the library's public services activities and serves as subject specialist for the social sciences. She is also an adjunct professor in TCNJ's Department of Political Science. She holds a PhD in Political Science from the Johns Hopkins University and an MLIS from Rutgers, the State University of New Jersey.Erin Ackerman coordinates the library's public services activities and serves as subject specialist for the social sciences. She is also an adjunct professor in TCNJ's Department of Political Science. She holds a PhD in Political Science from the Johns Hopkins University and an MLIS from Rutgers, the State University of New Jersey.
Elizabeth Borland
Elizabeth Borland is a Professor of Sociology whose scholarly interests include gender in organizations, feminist collective action, and the scholarship of teaching and learning. She published articles on faculty gender equity, part of her participation in the NSF-funded TCNJ Advancement Project (TAP). Dr. Borland delights in bringing people together to establish sustainable peer systems for mentoring and mutual support–something she has done at TCNJ with TAP and in a weekly writing group she has run for a decade, in HSS with the establishment of a mentoring program, and most recently with the Partners in Pedagogy Program, which she coordinates as a CETL Teaching Fellow.
Daniel Cannity
Dan Cannity is currently a team lead in Instructional Design, Engagement, and Support at the University of Massachusetts Amherst. His graduate work in Sociology focused on digital literacies and digital skill acquisition, with a lens toward equity. He believes that digital technologies provide the opportunity for enhancing learning, and community participation, as long as we put in the energy to make it work for everyone.
Judi Cook
Judi Cook is Executive Director of the Center for Excellence in Teaching and Learning, where she creates resources and faculty professional development opportunities in support of innovative and effective course design. Before taking on her current role, Dr. Cook served as TCNJ's inaugural Director of the Office of Instructional Design from 2014-2022. She came to TCNJ from Salem State University, where for 16 years she served as a faculty member in the Media and Communication department. Some of her research interests include universal design, active learning, and digital pedagogy.
Ellen Farr
Ellen Farr is the Assistant Director of The College of New Jersey's Center for Teaching and Learning. With over 20 years of experience in higher education, Ellen is passionate about supporting faculty in their course design and pedagogical goals. Ellen also works closely with campus partners to promote a culture of teaching excellence and student-centered learning. To stay current in higher education issues and trends, Ellen teaches undergraduate and graduate courses in academic writing, assistive technology, and children's literature.  Some of her research interests include the design of learning environments, inclusive education, and digital literacy.
John Kuiphoff
John Kuiphoff is a creative entrepreneur that makes things with computers and glue. He helped establish a makerspace at The College of New Jersey and teaches Digital Fabrication, Product Design, Data Visualization, Physical Computing, Creative Coding, and Digital Media. John also runs a digital fabrication media business and works with brands worldwide.
Celia Liu
With a cross-disciplinary background, Dr. Celia Liu holds a Master's degree in Taxation and another in Accounting from the Fordham University Gabelli School of Business, a Master of Arts in Teaching from Rutgers University, and a Doctorate degree from the University of Pennsylvania. Recently, her book, Ancient Texts with Modern Values, was published in Taiwan, further cementing her research contribution to the field of language teaching. In 2022, TCNJ received a prestigious Fulbright Hays grant from the U.S. Department of Education. As the project director of this program, Dr, Liu will be leading a group of NJ P-12 educators and TCNJ faculty to Taiwan this summer.

Kevin Michels
Kevin Michels is professor and founding director of the School of Business Center for Innovation and Ethics. He created and teaches the course in Innovation in the undergraduate and Strategy, Innovation and Leadership track of the MBA program, as well as courses in Business Ethics and Corporate Social Responsibility and the Legal and Regulatory Environment of Business.  His current research explores how values, ethics, and technology can be integrated in the innovation process.
John T. Oliver
John T. Oliver coordinates instruction at Gitenstein Library and specializes in the information skills learning of first-year students. He teaches IDS 102 ("Information Literacy Proficiency"), a mandatory library skills and academic research course for all TCNJ students. He holds an MLIS from Rutgers University, and an MA in Cognitive Studies in Education from Teachers College, Columbia University. Before becoming a librarian at TCNJ, he was a health sciences librarian at Columbia University Medical Center. He earned his undergraduate degree (in English) at TCNJ. His research interests include best practices in multimedia teaching and learning; information literacy, especially in first-year students and other students in transition; and strategies and supports for librarian collaboration with campus partners.
Jennifer Palmgren
Jennifer Palmgren is Assistant Provost for Academic Affairs at The College of New Jersey. She works with the college's shared governance system and helps to coordinate the approval processes for new academic programs. She also serves as the college's MSCHE Accreditation Liaison Officer. Prior to joining TCNJ in 2014, she was a faculty member and program director at Saint Paul's College in Lawrenceville, Virginia. She received her BA in English from the College of the Holy Cross and her MA and PhD in English from the University of Kansas.
Nina Ringer
Nina Ringer has been the Director of the Writing Program since 2013. She serves on the Liberal Learning Program Council and the First Seminar Coordinating Committee and teaches First-Year Writing and First-Year Seminar. Her most recent conference presentations have been on Writing Studio, reading a film and writing about it, and the parallel between composing a film and composing an essay. Her first-year courses focus on writing about film, writing about recent television narrative, and, every four years, on the escalating media around the presidential election. She is always looking for new ideas on how to teach students to write.
Mark Russo
After receiving a PhD in engineering, Mark Russo spent 33 years working in high-performance computing, robotics, and IT in the biotech and pharma industries. Over the same period, he taught computer science as an adjunct professor at several post-secondary institutions before joining TCNJ full-time as a Senior Lecturer in the Fall of 2022. Mark has published numerous peer-reviewed scientific articles as well as a book on computing in automation.
Andrea Salgian
Dr. Andrea Salgian is a professor in the Department of Computer Science, which she joined in 2005. She got her BS in Computer Science from the Babes Bolyai University in Cluj, Romania, and her MS and PhD in Computer Science from the University of Rochester in Rochester, NY. Her research spans the areas of Computer Vision, Human Computer Interaction, and Artificial Intelligence. She has worked on a variety of visual recognition problems, including object, face, and gesture recognition. Dr. Salgian has mentored numerous research projects, and is passionate about introducing students to these areas.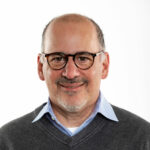 David Saul
Adjunct in the School of Business, Department of Information Systems Technology since 2021. Professional certifications include Project Management Professional (PMP) from the Project Management Institute and Advanced Certified Scrum Master (A-CSM) from the Scrum Alliance. My 30+ years of Corporate IT experience includes work with clients such as Bank of America, AIG, MetLife, Siemens and AT&T. I started work as a programmer at AT&T and increasingly gained responsibility and accountability within Technology teams. My latest corporate roles were as Program/Project Manager. I'm interested in leveraging new technology at TCNJ to enhance student's learning while making it more fun for them.
 Felicia Steele
Felicia Jean Steele received her B.A. from the University of New Mexico and her M.A. and Ph.D. from the University of Texas at Austin. She teaches courses in introductory linguistics and the global history of the English language, as well as courses in early literatures and medievalism in British literature. Professor Steele's main research is in historical linguistics, specifically auxiliary verb change over the history of the English language. She has also published essays in historical phonology, the uses of linguistic analysis in discussions of literary influence, the relationship between J. R. R. Tolkien's scholarship and Seamus Heaney's translation of Beowulf, and the teaching of the History of the English Language. She has presented her work on community engaged pedagogy and the study of American Dialects at the American Dialect Society meeting and her work on teaching Dictionary Skills at the Dictionary Society of North America Meeting. She also maintains research interests in lexicography, cognitive linguistics, medieval literature, and the literature of the Inklings, particularly J. R. R. Tolkien and C. S. Lewis.
Return to conference home page