What is NameCoach
NameCoach is a tool integrated into Canvas that gives students the ability to record the pronunciation of their names, provide the phonetic spelling of their names, and store their pronouns. Instructors can access this data to learn how best to address students.  NameCoach aims to create a more inclusive campus community and classroom, and encourages a culture of respect.
Recording your Name
Students and Instructors are encouraged to record their name pronunciations, as well as add a phonetic spelling of their name and pronouns.  To record your name, log into Canvas and click on your Account/Profile (1) in the global menu and choose Settings (2).  You will now see a menu option for NameCoach Account, select it.
You will be presented with an interface where you can record your name pronunciation and set your pronouns.  Click on the red Record Name button to open the recording interface.  When recording, you can choose to have the platform call your phone or use the web recorder if you have a microphone connected to your device.  You can always go back and edit your recording.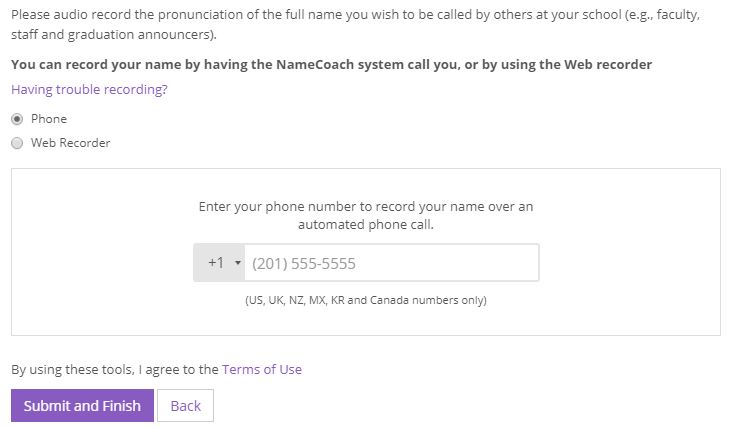 Troubleshoot Recording with NameCoach
Want to use a different first name in Canvas?
You can set your preferred name in PAWS.  Canvas receives account updates on a nightly basis for active users enrolled/assigned to courses for the current semester.  In the case that you are not an active user and wish to have your Canvas name updated, please contact us at canvashelp@tcnj.edu with the subject "Preferred name update".
Listen to Recordings through NameCoach Roster
To listen to NameCoach recordings by other students and to view their pronouns, navigate to your Canvas course and click the NameCoach Roster menu item. (If the menu item is not present, see below to enable it.)  If a student has recorded their name, they will appear under the Recorded Names tab.  Those who have not will appear under the Unrecorded Names.  Instructors are able to email students to request that they record their name or re-record their name by clicking the envelop icon in the student's row.  Please note: By default, NameCoach will be enabled for your course.  If you do not see it listed in the menu, it is possible an instructor has removed it from the course menu.
For Instructors, Create a NameCoach Assignment
Creating a NameCoach assignment at the start of the course is a great way to ensure student engagement. 
In order to do this, simply create a Canvas assignment and change the submission type to NameCoach. See detailed steps below:
Create a canvas assignment using the Assignments or Module tab in Canvas

Enter the Assignment name and description in the respective fields

Change the Submission type to 'External Tool'

Click Find and select the NameCoach Account in the 'External tool URL' field

Click Save to save the assignment
This will create a NameCoach Assignment for students. Once published, this assignment will be completed upon students recording their names.
Students will be able to record their name pronunciation.
NameCoach Roster in your Canvas Course
To enable the NameCoach Roster menu item in your course, click on the Course Settings -> Navigation, and enable the NameCoach Roster. This provides access to the NameCoach recordings for the course.  The lower area of the tool window will contain a roster: the recorded names appear in the 'Recorded names' tab in the assignment area (screenshot below) whereas the unrecorded names appear in the 'Unrecorded names' tab. 
Please note: If some students have already recorded their names at a prior time, their name and recording will be pulled by our application and will appear in the recorded names section.