Faculty Spotlight for this Semester is Dr Xu Han.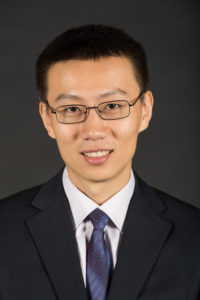 Dr Xu (Henry) Han is an Assistant Professor of Management at The College of New Jersey School of Business. His teaching philosophy is to help students apply what they learned from the textbook into practice.
For his Strategic Management course, he designed a Boardroom Discussion Exercise for his students to simulate the conversations that board of directors and top management team often have in the boardroom and help students practice the use of strategic logic/analysis in strategy-related conversations. He divides his participating students in two teams to debate on a specific strategic decision (also called a boardroom discussion thesis). The students find and decide on their own for which thesis to debate on. For example, one team will basically pick a company decision, such as Amazon deciding to enter into healthcare, and argue that such a decision strengthen or weaken the firms sustained competitive advantage. They then need to find evidence/arguments to support their thesis and present them in the class. After their presentation, another team will need to challenge the thesis and have a debate with the defending team on the thesis. This exercise simulates the discussion that often happen in a boardroom or executive meeting. Both the teams have to provide arguments, evidences, and presentations (for which rubrics are provided) and try to convince and motivate other class students who do not participate in the debate to agree with them in order to win a vote in the end. These kinds of debates get very lively! Everyone gets engaged—even the audience.
Want to be featured for the next faculty spotlight showcase and help others learn from your teaching practice? You can email your teaching and learning practice description to Swati at ramanis@tcnj.edu.